40k Missions, Army Building, Scoring & Tournament Format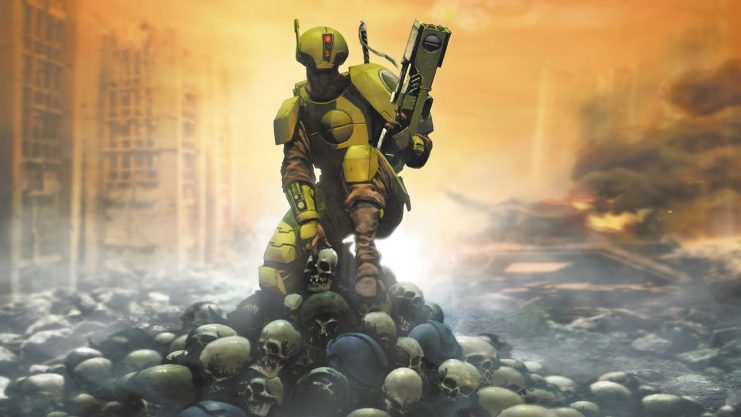 Warhammer 40k Tournament Format
2018 Warhammer 40k Primer Missions
These missions are open and available to all who wish to practice these missions before an event, or if you wish to run your own event using the Renegade Open Format.
Remember that you will need at least some form of selection method to choose one of your four Primary Missions (Cards, dice, tokens, etc.)
Army Selection Guide
The Renegade Open is 2000 points for your army, and following the above guidelines for your selection. Please send to our email for approval before the event.
Tournament Format
The tournament will consist of two days of gaming. The first day (Saturday) will be used to separate opponents into 8 Person "Pods" for Sunday's games.
The Top 8 players from Saturdays games (Based on Match Score with strength of schedule and battle points used as tie breakers) will fight in the championship "Pod" on Sunday. With each following "Pod" having it's own Mini-Tournament, with prizes handed out to the winners in each "Pod".
Match Scoring
Games will be scored on Battle Points with a Maximum of 11 points possible.
Each game will consist of 1 Primary Objective worth 4 Battle Points, the Renegade Maelstrom worth 4 Battle Points, and 3 Tertiary Objectives each worth 1 Battle Point for a total of 11 Battle Points a game. The winner of a game is the player who scores the most Battle Points in a game.
Battle Points will be tracked in order to assist with pairings and tie breaking, but WILL be used in your overall score.
Pairings
First round pairings will be randomly assigned, for each subsequent round we will use a Swiss Escalation format. This will help to ensure that players who continuously do well will be paired against each other in subsequent rounds leading to stronger competition throughout the event.
Hobbyist Scoring
Throughout the tournament judges will be coming around to rank peoples hobbyist score. Each player will get ranked independently by 2 different Floor Judges and our Special Guest Judge. These scores will then be averaged for the players final Hobbyist Score.
There will be a maximum of 40 Hobbyist points available.